After over ten years of delivering technology workshops across South Yorkshire – both in-person and online – we've created a simple system for introductory in-person provision, as well as three online learning routes that we now call FTP3, so that anyone can learn with us, regardless of their level of confidence or experience using technology.
For as long as we continue to receive grants, donations, and supporters, all of our learning programmes adopt a pay-as-you-feel approach, with no-one turned away for lack of funds (or NOTAFLOF)!
---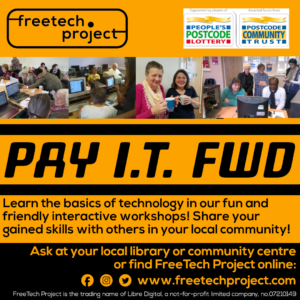 Pay I.T. FWD is our in-person learning programme, which can be delivered at libraries and community centres for groups looking to get to grips with the internet and technology at beginner level. Topics include understanding different devices and systems, using the web safely and securely, spotting scams, social media, and more. These workshops are highly interactive and designed to be fun, with the aim of enabling a local group to retain and pass on their skills within their community, with optional long-term support from FreeTech Project via Friends of FreeTech Project or…
---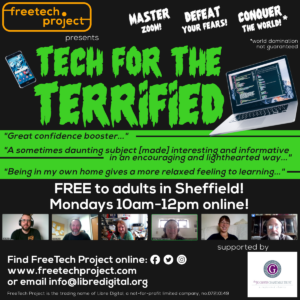 Tech for the Terrified enables anyone with a device connected to wifi to develop their learning with us, even if they consider themselves under-confident or even a little afraid of technology! These online workshops run via Jitsi Meet, meaning no app is necessary as the video meeting opens in your web browser (such as Edge, Safari, Chrome, Firefox, etc.) These sessions focus on "Five Fears": video conferencing itself; devices, files and folders; the web at large; scams; and invasion of privacy. By the end, participants should feel more fearless in using the internet and technology, and ready to continue their learning! The current programme is awaiting further funding. To be kept informed of its relaunch, sign up for our newsletter by clicking here.
---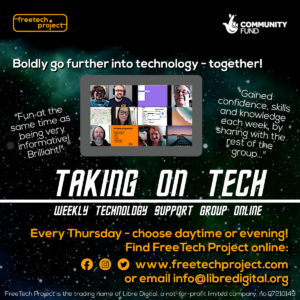 Taking on Tech is our online support group for all levels, where participants can stay up-to-date on the latest changes in technology. In addition to topics such as hardware, software, websites, photo editing, and Raspberry Pi, these interactive workshops include "action learning," where both facilitators and the group as a whole help solve any tech-related challenges participants may be facing that week! The current programme runs Thursdays on Zoom, open to adults in South Yorkshire and Friends of FreeTech Project. To register, email us via info@libredigital.org.
---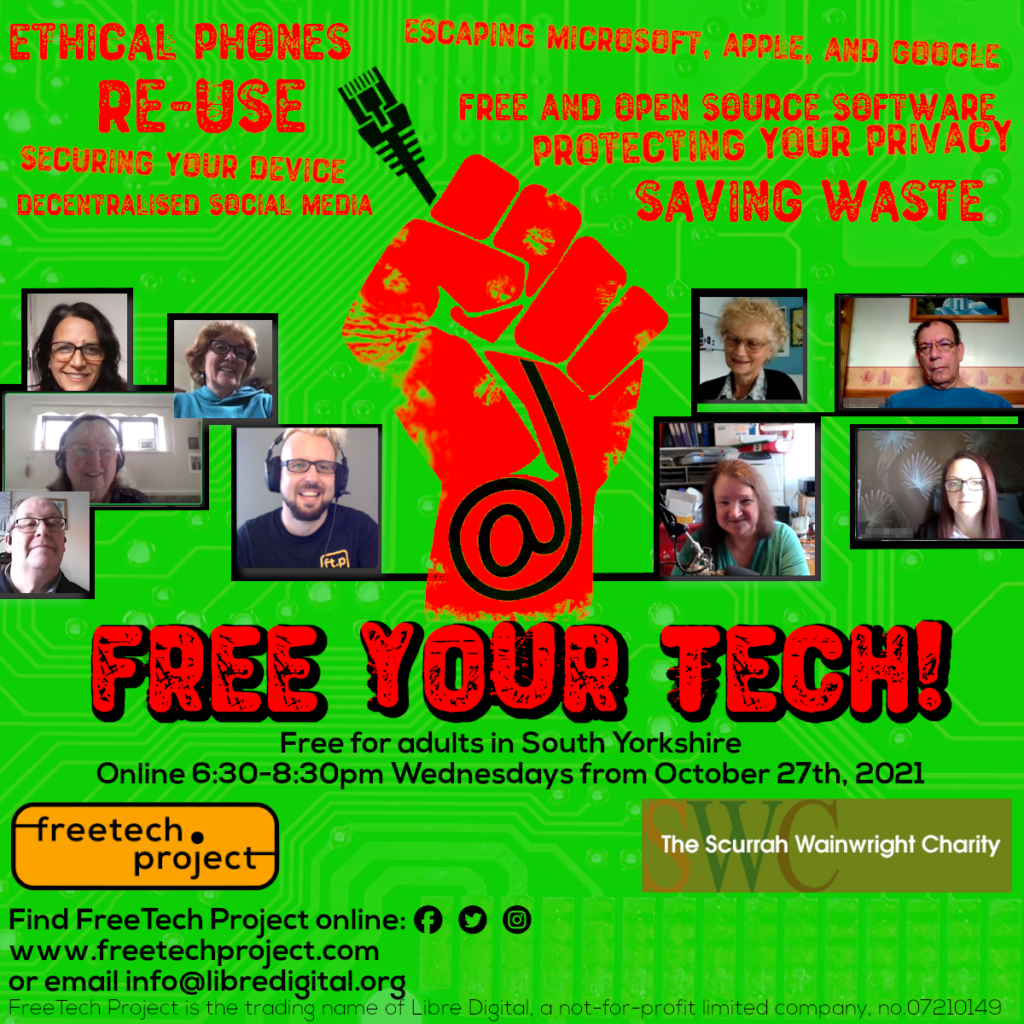 Free Your Tech runs online for those wanting to explore ethical hardware and software, and alternatives to Microsoft, Apple, Google, and Facebook, to name a few, with a focus on privacy and security, free and open source software, Linux and even saving waste using tech! The current programme is awaiting further funding. To be kept informed of its relaunch, sign up for our newsletter by clicking here.
---
Click here for our Online Learning Participants Data Privacy Notice.
Click here for our Code of Conduct for Participants.