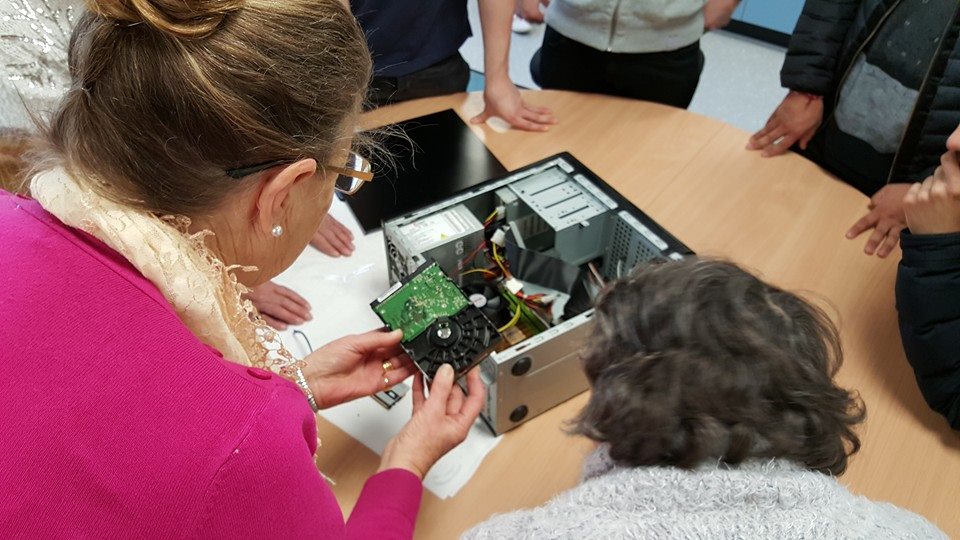 Here is a selection of frequently asked questions about our learning programmes (or "modules" as we call them). However, if you can't find an answer to your question here, please do get in touch!
If you're the FreeTech Project, who are Libre Digital? Still us! Libre Digital is the name of the not-for-profit limited company, but what we do is the FreeTech Project!
Why should I be interested in what you do? Technology has enabled us to progress in communication, education, business, travel, healthcare, and many other areas to improve our lives. Just as libraries "gave us power" — with access to knowledge freely available to ordinary people — here at FreeTech Project we are passionate about technology being used to better connect us with information on the topics, events, places, and people important to us. We don't believe in technology for the sake of technology — and we won't encourage you to use devices that aren't relevant to your needs. We will also show you how you can use technology in a healthy, and even more ethical, way.
What is a "module," again? It's what we call our learning programmes: each one is a "module"!
Is there a limit to how many I join? Nope! You can join as many as you are eligible for. (The only requirements are usually based on the area in which you live and whether or not you're an adult…you don't have to be too "grown up" though!)
Do I need some level of technological knowledge before getting involved? Some of our participants have never even used a mobile device or a keyboard and mouse before, while others are keen computer users — we try and include everyone, all at different levels, as much as possible, and we are confident that everyone will learn something!
Are these accredited courses? Although there are many computer courses out there that provide this, none of our modules usually do. We try to avoid a "one size fits all" approach and instead are geared towards meeting the needs of every individual participant as much as possible – so that each person gains the knowledge and skills they want, in a fun and friendly atmosphere.
Will the facilitators solve my problems? There will be times where a facilitator will guide a participant through something, but only in a way where that participant will understand what has happened and why. In addition, sharing problems with the group is an inclusive way for everyone to learn in the problem-solving process. Rather than doing something for you, our facilitators want to enable each participant to understand the problem, and gain the awareness of how to solve it for themselves, without fear, outside of workshop time.
So you won't grab my device and whizz through solving a problem for me? Oh goodness, no. We want you to learn things!
Isn't it difficult to access the online workshops? If you have a device connected to WiFi, you'll be able to join via the link we email to you. In addition, we send video tutorials you can pause-and-play to get up-and-running with connecting to our video meet-ups. We then guide you through the steps of figuring it all out! It's pretty common to feel nervous about it, so we try and have fun with it. Plus, online workshops do have advantage over in-person — for example: you can stay in the comfort of your own home; you can meet others from further afield; and everyone can see examples all together in the same way, rather than crowding around a computer!
How much does it cost? How much do you want it to cost? No, really, that's an honest question! So long as we continue to raise funds, you can still pay as much or as little as you like to take part — yes, even nothing, nada, zilch, zip, or bugger all. You're still very welcome. (But you can chuck in some support by clicking here!)
How much do I have to attend? Same answer as above: as much as you like!
What else makes FreeTech Project different? In addition to creating fun and friendly spaces within which people can work together to gain and share skills, we also try as much as possible to focus on more ethical technology, such as alternatives to expensive devices or operating systems from the likes of Apple and Microsoft, instead raising awareness of "open source" options such as Android and Linux (and yes, we explain what on earth "open source" is!) We are also strictly non-profit.
You seem quite passionate about privacy and security – are you? What gave it away? It may be why we often mention our comprehensive data protection privacy notices – and why we always ask consent for any information we get, as all organisations ought to!
How do I sign up? Our newsletter keeps people informed of upcoming modules and other happenings at FreeTech Project, which you can join by clicking here. The newsletter lets you know how to sign up for the particular module you're interested in — in-person with Pay I.T. Forward, or online learning via Tea & Tech. For the latter, online, before each workshop you receive a link in your email inbox to click on to join that workshop, and voila.
Why do I get asked for feedback? We have enjoyed over ten years of delivery by constantly changing, evolving, and adapting our approach to meet the demands of our community, engaging participants in shaping what we do. As we provide evidence of demand, it also enables us to procure crucial funding to keep our modules "pay-as-you-feel."
How do I get regular on-going tech support from FreeTech Project? We're glad you asked! Friends of FreeTech Project can ask for help at any time via email, and you can join for as little as £1 a month – which you can do by clicking here.