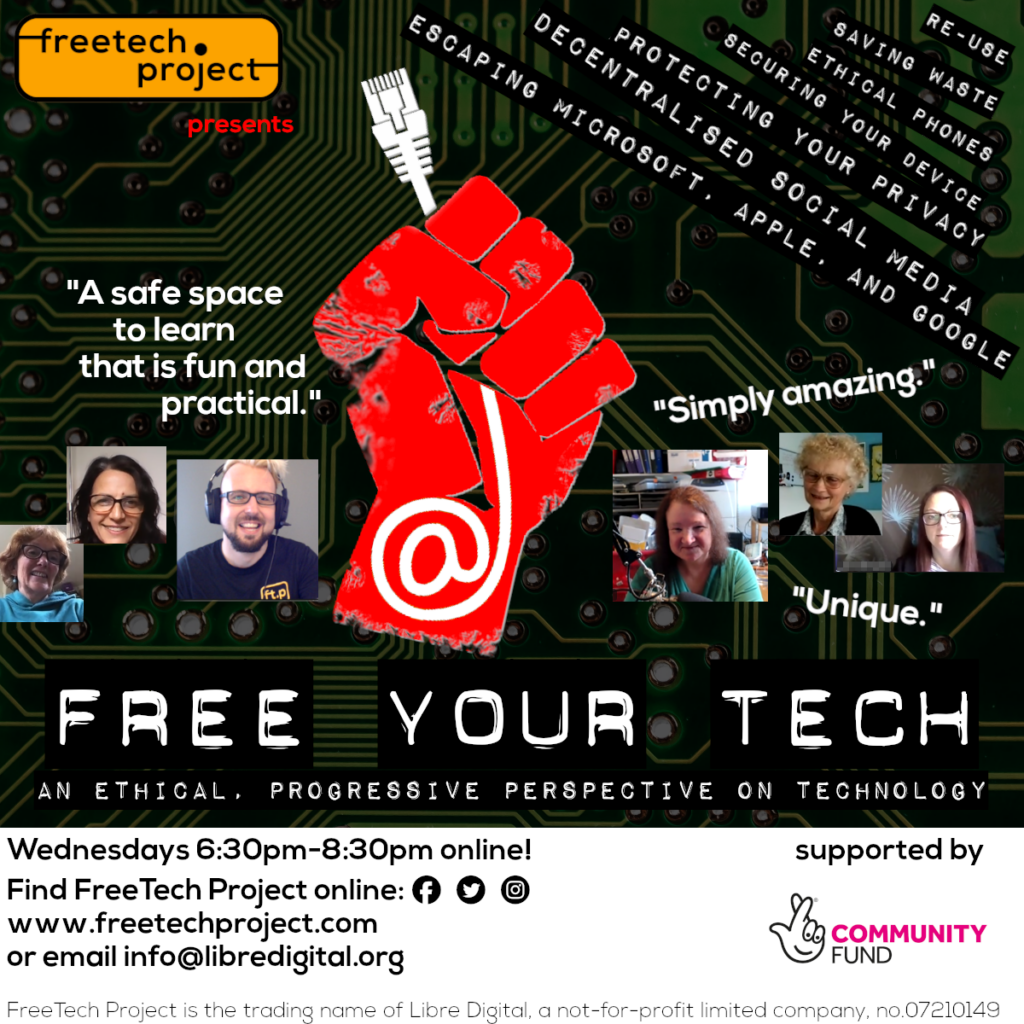 Free Your Tech runs online via Jitsi Meet and is for those wanting to explore ethical hardware and software, and alternatives to Microsoft, Apple, Google, and Facebook, to name a few — with a focus on privacy and security, free and open source software, Linux and even saving waste using tech!
Workshop 1: Overview. An introduction to what we'll cover in coming sessions, as well as a look at privacy and security – why they're different, why they both matter, and what you can do to have better control online.
Workshop 2: More Ethical Hardware. Understanding computer parts, and asking whether it's worth building your own computer. What other options are available for more ethical laptops and mobile devices? You'd be surprised.
Workshop 3: More Ethical Software. Why free and open source software is a more ethical option, what it exactly is, and what options are out there.
Workshop 4: Getting Linux. The free and open source alternative to Apple Mac and Microsoft Windows – how to choose a Linux distribution for your individual needs, and how to install it!
Workshop 5: Using Linux. Looking at different Linux distributions in action.
Workshop 6: Mobiles. The mobile "duopoly," alternatives to iPhones and how to "de-Google" your Android device!
Workshop 7: Raspberry Pi. The affordable microcomputer and its many uses.
Workshop 8: Communications. Email, messengers, and the "fediverse"!
Workshop 9: Refreshers. Taking another look at privacy, security, hardware, software, Linux, "de-Googling," Raspberry Pi, and communications.
Workshop 10: Quiz. Testing knowledge gained!
What participants have said: "I will not worry about not (having) Microsoft on a laptop ever again!" "Unique! More of this please." "There are so many items that I have learnt, from using free software to VPNs." "A friendly environment." "A safe space to learn that is fun and practical. "Savvy ways to use computers and more." "Simply amazing!"
Email us at info@libredigital.org to sign up!
Click here for our Online Learning Participants Data Privacy Notice.
Click here for our Code of Conduct for Participants.