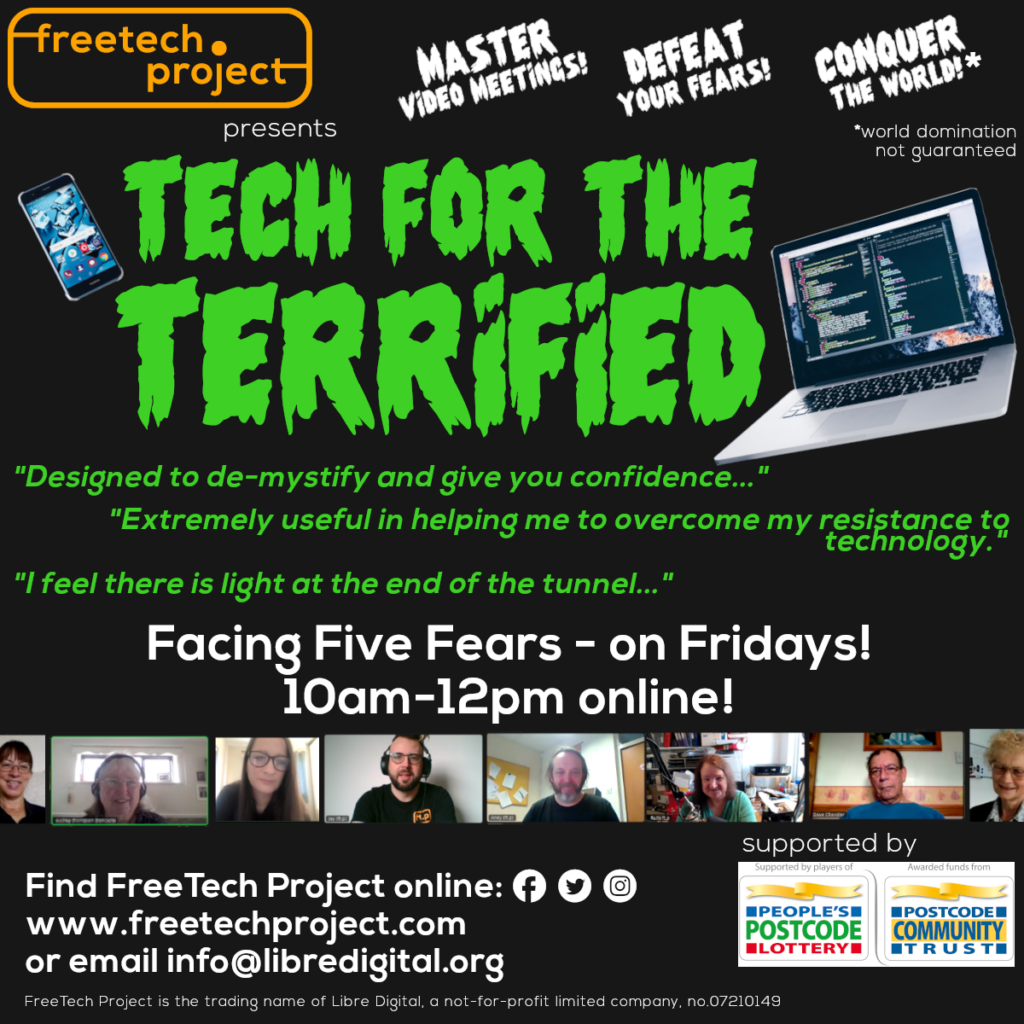 Tech for the Terrified enables anyone with a device connected to wifi to develop their learning with us, even if they consider themselves under-confident or even a little afraid of technology!
These online workshops run via Jitsi Meet, meaning no app is necessary as the video meeting opens in your web browser (such as Edge, Safari, Chrome, Firefox, etc.)
These sessions focus on "Five Fears":
Fear 1: Video Conferencing. Understanding how it works, tweaking the settings, and hosting your own meetings if needed.
Fear 2: Devices, Files & Folders. De-mystifying computer parts, jargon-busting computer "specifications," and understanding these so you never have to be intimidated by a salesperson ever again! Also, taking care of your device, organising documents, photos and videos, and saving, storing, and sharing files.
Fear 3: The Web. Understanding web browsers, easily saving favourite websites, searching the web, and using (or avoiding!) social media such as Facebook, Instagram, and Twitter, to name a few.
Fear 4: Scams. The different types of scams, how to spot them, and how to avoid them while using the web.
Fear 5: Invasion of Privacy. How to control your privacy online, how it's different from security, and good practices to master both.
By the end, participants should feel more fearless in using the internet and technology, and ready to continue their learning!
What participants have said: "Non-threatening, informative, and enjoyable." "I feel there is light at the end of the tunnel…and I have hope to gain better skills with computers." "Friendly and inclusive." "Easy to join!" "Because of the no pressure and relaxed style I have become more open to learning." "Extremely useful in helping me to overcome my resistance to technology." "The individual items I've learned combine to make me more confident." "Fun and engaging!" "Designed to de-mystify and give you confidence." "A great job of making a sometimes daunting subject interesting and informative in an encouraging and lighthearted way." "Great confidence booster."
The next series returns in September! To be kept informed, sign up for our newsletter by clicking here.
Click here for our Online Learning Participants Data Privacy Notice.
Click here for our Code of Conduct for Participants.