Following on from FreeTech Project plans to offer our workshops online, we are proud to confirm that thanks to the National Lottery Community Fund, we are able to continue this approach in the coming months.
Beyond our Bentley FreeTech Project, we are now holding a series of workshops for adults 18+ in the entire Doncaster area, via the Doncaster FreeTech Project!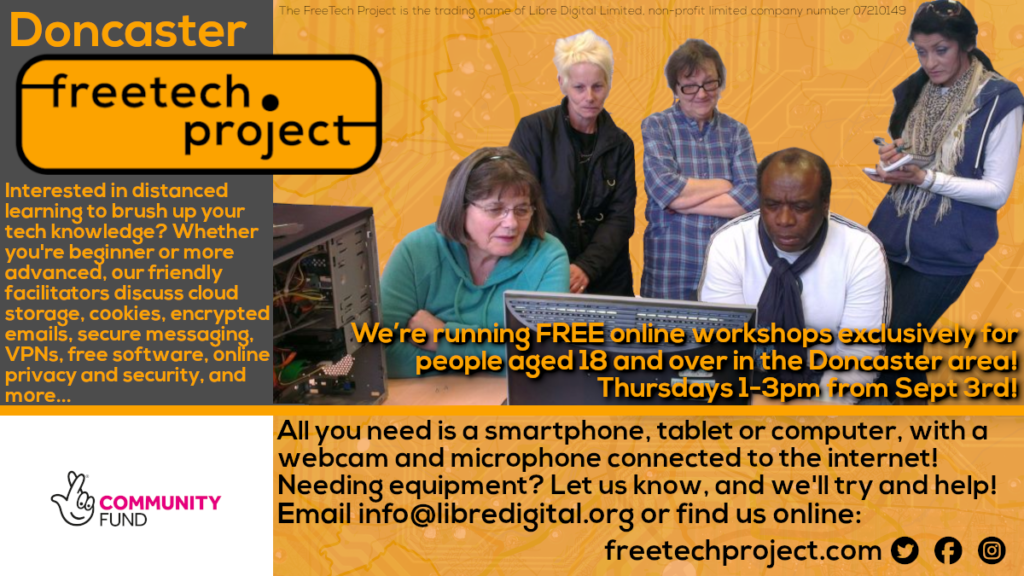 Our Research & Development Officer Jane Watkinson said:
"Over our ten years in operation, we've enjoyed working with so many Doncaster communities, from Edlington to Thorne, and Stainforth to Bentley, where we're continuing our work, but now also able to deliver our popular, fun and friendly workshops to people from across Doncaster as a whole via distanced learning, thanks to the support from the Community Fund. If you can get online, you can access our workshops, and it doesn't matter if you're an absolute beginner or even an aspiring programmer!"
The sixteen weekly workshops will take place Thursdays 1-3pm from September 3rd and cover topics as basic as email attachments and cloud storage, to more advanced such as free software, Linux, and how to spot a scam online, in addition to coming up with – and, yes, remembering – strong passwords, to name a few.
There will be the option to continue learning throughout the week via our developing FreeTech Forum.
Doncaster residents aged 18 and over who are interested in accessing these free online workshops can email info@libredigital.org to be kept informed when registration is open!