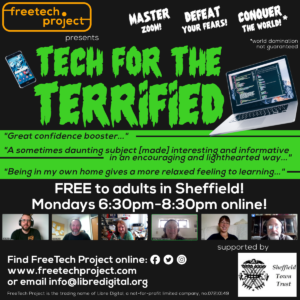 Tech for the Terrified
Designed to improve confidence with technology, this programme is free to adults in Sheffield thanks to support from Sheffield Town Trust! Workshops run Mondays 6:30-8:30pm throughout the summer of 2021, tackling all the basics from fully understanding Zoom to using different devices, from privacy and security to online shopping and avoiding scams, searching the web and saving files — these topics and more will be covered in a way that's friendly, fun, and leave participants more fearless and ready to use technology with confidence!
Time: Mondays 6:30-8:30pm
Venue: Online
How to register: Email info@libredigital.org
---
Click here for our Online Learning Participants Data Privacy Notice.
Click here for our Code of Conduct for Participants.