We are pleased to announce that thanks to a grant from The National Lottery Community Fund, the FreeTech Project are able to offer all three of our learning modules right into next year, continuing to bring people together to use technology better, safer — and hopefully save some money along the way.
This means that no matter your level of confidence or comfort with computers and the internet, we'll be able to offer a fun, friendly, relaxed and safe space online for adults all across Sheffield, Doncaster, Rotherham, Barnsley and beyond via our three learning routes that we now call the "FTP3"!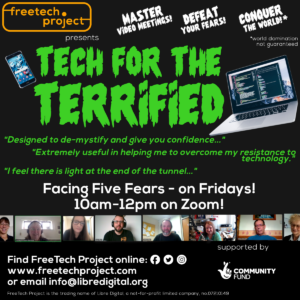 Tech for the Terrified enables anyone with a device connected to wifi to develop their learning with us, even if they consider themselves under-confident…or even a little afraid of technology! The workshops take place on the popular Zoom app, and focus on "Five Fears": Zoom and video conferencing itself; understanding and taking care of your device; files and folders; the web at large; and invasion of privacy and security. By the end, participants should feel more fearless in using the internet and technology, and ready to continue their learning!
Here's what previous participants have said:
"Easy to join! Because of the no-pressure and relaxed style, I have become more open to learning"
"Friendly and inclusive"
"Non-threatening, informative, and enjoyable"
"Extremely useful in helping me to overcome my resistance to technology"
"The individual items I've learned combine to make me more confident"
"Fun and engaging!"
"I feel there is light at the end of the tunnel…and I have hope to gain better skills with computers"
"Designed to de-mystify and give you confidence"
"A great job of making a sometimes daunting subject interesting and informative in an encouraging and lighthearted way"
"Great confidence booster"
Interested in joining Tech for the Terrified? Get in touch!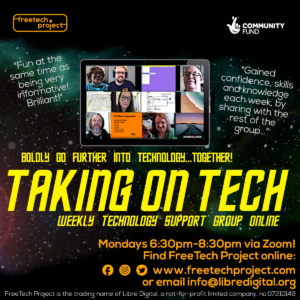 Taking on Tech is our online support group for all levels, a video meet-up via Zoom where participants can stay up-to-date on the latest changes in technology. In addition to topics such as hardware, software, websites, photo editing, and Raspberry Pi, these interactive workshops include "action learning," where both facilitators and the group as a whole help solve any tech-related challenges participants may be facing that week!
Previous participants have said this:
"Knowledge is power! I am never going to be a huge user of technology, but now I have informed choices, which is all the power I need. Now I have to keep up to date with all the changing advances"
"The knowledge I have gained has helped me to enjoy my experience with technology"
"Re-kindled my enthusiasm for technology"
"Helpful and informative for people on all levels of technical abilities"
"Gained confidence, skills and knowledge each week, by sharing with the rest of the group"
"It's good to interact and share problems and knowledge with others"
"I.T. is changing all the time so there will always be new things to learn and problems to overcome"
"The content is relevant to everyday issues that crop up"
"We get to listen to other people's experiences, share ideas and feel more tech confident"
"Every one is so willing to take part and the whole group is energised. Can't wait to the next session"
"Fun at the same time as being very informative! Brilliant!"
"Caters for people at the correct pace"
"Found the easygoing learning experience helpful"
"Steady pace, relaxed atmosphere, group participation and excellent tutors"
"In addition to the planned topics, there were also hints and tips which greatly enhanced the process. Also questions could be asked about own computer issues or uncertainties which were discussed and a solution provided – worth its weight in gold!"
Interested in joining Taking on Tech? Drop us a line!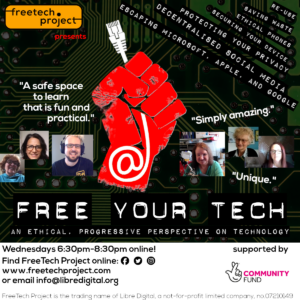 Free Your Tech runs online via Jitsi Meet for those wanting to explore ethical hardware and software, and alternatives to Microsoft, Apple, Google, and Facebook, to name a few — with a focus on privacy and security, free and open source software, Linux and even saving waste using tech!
What previous participants have said:
"A friendly environment"
"A safe space to learn that is fun and practical"
"Savvy ways to use computers and more"
"Simply amazing!"
"I will not worry about not having Microsoft on a laptop ever again!"
"Unique! More of this please"
"There are so many items that I have learnt, from using free software to VPNs"
Interested in joining Free Your Tech? Give us a shout!